Church Child Protection Software - keep your children safe at all times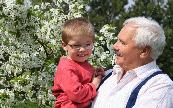 With some horrific stories about abuse of children in churches and childrens homes in the news, it is important to have an effective Child Protection policy.
Start by allocating someone this important role of overseeing your Child Protection policy, both for paid staff and volunteers.
If you haven't got a policy, make it a priority to write one or adapt one from another church, to make sure that you are doing your best to keep the children entrusted to you safe.
This is not an optional extra, but an essential part of any church, to keep your children and staff safe and secure, without fear of allegations.
As it's such a high priority, software has been developed to enable some of the larger or mega churches to effectively handle large numbers of children whilst managing their security and signing in - for small churches, an effective paper-based system can work just as effectively.
Here's a couple of suggestions that may work for you
Church Community Builder
Church Community Builder - Child Check In. Feeling safe and secure about your child and being able to be contacted in case of an emergency is very important to visitors and members alike. Check-In allows you to keep track of who is attending a class, what events the other members of that family are attending, and if there are any special needs for the attendee.
Check-in also helps ensure the safety of your child. With security codes printed out during the check-in process, only the person with this code is allowed to pick up the child.
Nativity
Nativity - this is a comprehensive management system which covers all areas of the church. Relatively new to the software scene, this software has a refreshing look - and clearly has been built by people who understand the problems of co-ordinating all the functions of a busy church.
Part of this software also includes a child check-in system to help meet the safety requirements of child protection regulations.
Whether you use software or paper-based tools, it's essential that you have a system in place to record the arrival and departure of children in your care.
Ideally this responsibility will be placed with the team of children's workers, who will be able to find a system that works well for your church.
Recommended Resources
Event Organisation and Volunteer Management - keep track and manage your most valuable resource, your volunteers