Find Church Bulletin Software to help save you time and create a professional result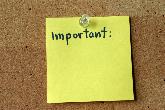 One easy way to communicate with your membership is with a weekly or monthly bulletin.
This can be a printed side of A5, or a small booklet informing them of church events and news.
Alternatively, you may have a physical board either inside or on the outside of your church building.
Whether you use existing software, such as Microsoft Word or Works to create this - having software that allows the addition of simple clipart, graphics and wordart, can really help make your bulletin stand out and be something people enjoy reading as they wait for the service or meeting to begin.
Blue Squirrel
Blue Squirrel - produce a church computer software, ClickBook, which lets you print church bulletins as booklets, brochures, flip books and more. Templates included.
Used by churches worldwide, church computer software, ClickBook, makes creating and printing church bulletins a snap. You can create your bulletin in Word using one templates, and print to ClickBook. ClickBook will take what you print and turn it into a convenient, attractive bulletin. Combines songs, schedules and announcements into a convenient bulletin format. You are able to easily go from 4 to 8 pages when things get really busy. Free Clickbook 9.0 Trial for Windows
Click Art Christian publishing software
Click Art Christian publishing software creates PC Print shop program collection with a Christian theme, thousands of Christian clip art images.You can create bulletins, calendars, Sunday school materials and more. Their calendar creator includes scheduling options. Easy to install and use .
Microsoft Publisher
Microsoft Publisher is also a useful tool for producing church publications, such as the weekly newsletter or bulletin. You can create text that flows between boxes, add pictures and clipart, cut and paste text from Microsoft Word and create professional publications.
These are just a few choices - to add a bit of fun and make it easy on the eye do try and add a few items of clipart.
You can find some of our favorite free clipart sites in our 5-page download, Free Christian Stuff for Churches.
For useful bulletin board ideas
If you're creating an actual board within your church building, here's two sites that are really helpful in providing inspiration
Boards Galore
Boards Galore - collection of decoration ideas for winter, spring, summer and fall - also holidays, including Easter and Christmas
Creative Ladies
Creative Ladies
- fed up with tired missionary and sunday school monthly notice boards, find some ideas to bring life and freshen up your existing boards